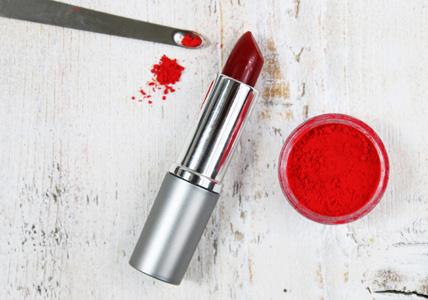 You want a lipstick made from natural ingredients? to avoid harmful or animal substances present in industrial cosmetics. And yes! many products on the market contain silicones and animal ingredients! (dolphin, whale...)
Fortunately, the solution is there to make your own lipstick, nourish and protect his lips at the same time. 100% natural, it will be composed essentially natural pigment, vegetable oils, beeswax…
Simple to make with very few ingredients, this lipstick is also a nourishing lip balm treatment thanks to regenerating and repairing ingredients.
If you want to make a protective and nourishing balm that does not color, simply follow the recipe without adding any coloring.
Properties: Lip shine, softening, protective, nourishing, regenerating
Ingredients:
PHASE A
1 teaspoon of organic wax:

beeswax (to bless if you want 100% vegan), carnauba or candellia wax etc.

1 teaspoon of organic vegetable oil: argan oil ,

 

sesame oil ,
1 teaspoon of organic Shea butter
PHASE B
1 touch of natural pigments: Akker fassi (poppy powder + pomegranate)
2 drops of fragrance (optional)
Materials:
A tea spoon
A bowl
An old lipstick tube or

 

cream pot
Operating mode:
In a bowl put PHASE A,

then melt in a bain-marie over low heat

Add PHASE B , ingredient by ingredient, leaving the bowl in the water bath. Mix between each addition until you obtain a smooth and homogeneous preparation.

pour your still liquid preparation into the lipstick mold or small pot (melt it again over low heat if necessary)

Let it sit for a moment before placing the whole thing in the freezer for a few minutes.
Take it out of the freezer.
Precaution and storage:
s store your lipstick away from light and heat.
Conservation : well preserved and manufactured in optimal hygienic conditions, your product can be kept for up to 6 months.