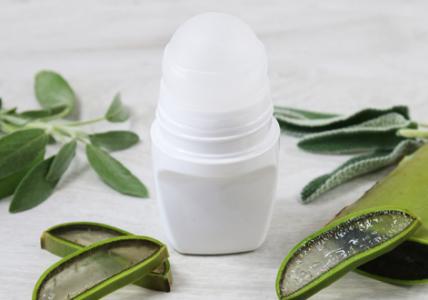 This will allow you to make an effective, 100% natural deodorant in the form of a liquid gel.
This is a recipe that we tested and which has already found quite a few fans. The formula is suitable for both men and women, because it can be personalized with low-dose essential oils, and without danger of irritation.
The recipe for this deodorant is quick and simple to make. It contains very few ingredients: you can easily make it at home and you will know exactly what is in it.
You should know that perspiration (a normal phenomenon) has no odor; but it is its decomposition that smells bad. So a deodorant should not prevent perspiration but prevent the development of bacteria that causes our bad body odor.
Ingredients
: For 30 g of deodorant
Aloe Vera

Gel

15

g or a large tablespoon

Sodium bicarbonate

a teaspoonful

Lemon/ citronella/ the tree /palmarosa essential oil : 12 drops in total if mixed (or approximately 1.5% of the formula)
(not recommended for pregnant and breastfeeding women)
A few drops of rose water : up to 5 ml
Cosgard preservative (optional): 6 drops (approximately 0.5%)
Materials:
Scale, funnel, whisk, or spoon, Mortar
Containing:
Opaque roll-on (essential oils are photosensitive) 30 g reusable thanks to its screw cap.
Operating mode:
1- Clean and disinfect all utensils.
2- In a bowl, add aloe vera gel .
3- Add the sodium bicarbonate
4- Incorporate the 6 drops of cosgard then mix.
5- Add the rose water drop by drop, until you obtain a texture between gel and liquid. Finally, incorporate the essential oil (if necessary). Mix again thoroughly.
6- Finally, transfer your mixture into the roll-on container using a funnel. Screw it in correctly.
7- You can label your deodorant specifying the date of manufacture and the ingredients used.
Use:
Use your roll-on under each armpit, like a classic deodorant. Let it dry for a few moments before getting dressed.
Conservation:
1 month without preservative and up to 3 months with.