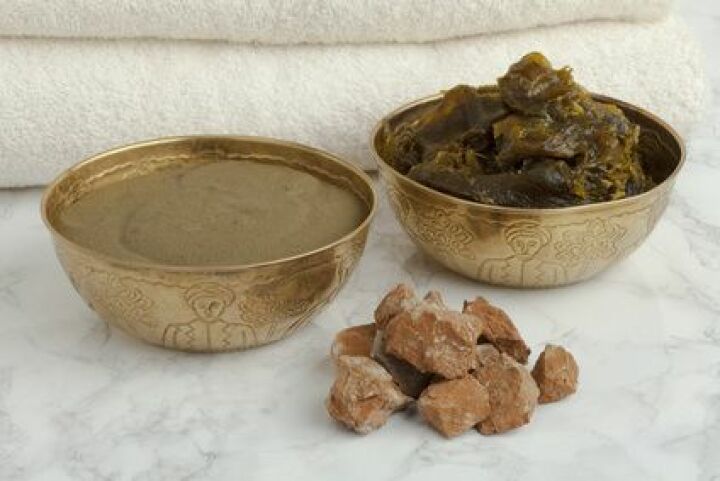 This treatment is the true hammam treatment practiced by Eastern women for centuries. This beauty secret has been passed down from mother to daughter.
It can also be practiced at home.
Your skin will be fresh and new, like that of a newborn.
This treatment is carried out in 2 steps : scrubbing with a kessa glove and wrapping with ghassoul clay.
Ingredients
For this you will need:
1.Prepare your skin for exfoliation by taking a hot bath releasing as much steam as possible to open the pores of the skin. Stay at least 10 minutes.
2.Apply black soap all over your body. Leave for 5 minutes. Rinse yourself with hot water to thoroughly remove the soap from your skin. Moisten a kessa glove.
3. Exfoliate your body, dead skin should appear and hyperemia shows that the blood is circulating and the scrub restarts circulation, provided it always goes back to the heart.
Every part of the body must be scrubbed. Don't forget the armpits, the soles of the feet, the backs of the ears, the ribs of the back.
Once the exfoliation is finished, the skin will have a velvety and purified appearance.
4.Prepare your ghassoul paste in a bowl, avoiding metal. If you have ghassoul in strips or powder, add lukewarm water little by little until you form a homogeneous and smooth paste. you can prepare your ghassoul with rose water.
5.Then add the oil of your choice:
for a relaxing effect: rose, jasmine, orange blossom
for a restructuring effect: amber musk, sandalwood, ylang-ylang

for a slimming effect:

cinnamon

for a draining effect: mint tea or Moroccan verbena
6.Wrap the entire body with this resulting mixture and leave to rest for 15 minutes
7.Rinse thoroughly in the shower.
Trick:
This rhassoul wrap can be used to coat the hair. If you do not mix oil with ghassoul, it is used as a treatment for oily roots and helps absorb sebum from the scalp.