Regular price
Sale price
€5.80 EUR
Unit price
per
Sale
Sold out
Authentic and traditional powdered kohl in glittery gray color. Used by oriental women, it serves to highlight the eye and gives the eyes a deep and captivating expression worthy of oriental princesses.
Economical and 100% natural , it lasts up to 3 days and does not require makeup removal. Screw-top glass bottle for easy opening and closing.
Based on minerals and plants, without petrochemical additives.
New packaging: screw-top glass bottle.
Artisanal and fair trade product

This kohl is handmade by Moroccan women from the countryside of the Agadir region. Its making is a true ancestral know-how. These women use 100% natural pigments based on antimony mineral and plants from Morocco: powdered date and olive pits . Once reduced to powder in a mortar, the mixture is passed through a sieve, then put into a bottle.
The History of kohl and its properties
Powdered kohl is undoubtedly the oldest makeup product in the world, having survived all the ages of antiquity to still be used today. Kohl has always been a product of seduction and adornment but above all an eye drops for protection against wind and sand. The Egyptians mainly used it as a natural protection against diseases and external attacks.
The look of Eastern and North African women has always been marked by kohl, which has given them a dazzling charm and very particular seduction.
In certain Arab countries, the tradition is to put kohl in the eyes of infants, in order to make their pupils shine and clarify the eyes. This also helps protect them from conjunctivitis, dust and other attacks.
In certain cultures and even today, the young woman will only wear kohl for the first time when she gets married.
Recommendation and composition:
Exclusively mineral and plant-based natural makeup for the eyes. It does not require makeup removal, even before bedtime and is perfect for the most sensitive eyes. Economical , it lasts 2 to 3 days.
Composition: Antimony powder ( a mineral extracted from the mountainous rocks of the Atlas) , date stones, olive oil.
Usage tips
To apply kohl powder adequately and without smudging, it is necessary to have a kohl kit including a kohl bottle and his Mirwed staff (Sold Separately) and a mirror:
- Fill the bottle with kohl powder.
- Dip the mirwed must in the powder. After taking it out, tap the stick against the inside wall of the bottle to remove the excess powder. 
- Place the stick on the corner of the eye. Gently close the eyelids on the mirwed.
-Glide the stick gently, then draw a line along the entire length of the eyelid. The result is an intense and perfectly highlighted look.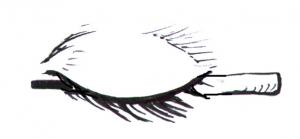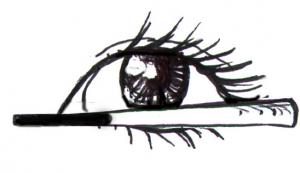 Origin: Morocco
Capacity: Approximately 18 g/20 g. Full bottle
View full details