Regular price
Sale price
€26.00 EUR
Unit price
per
Sale
Sold out
This makeup set contains a case with oriental motifs , a bottle of kohl accompanied by its three powder kohl refills: Black, Messouss glitter gray kohl and indigo blue kohl.
Take advantage of a 5.10 euro discount for this lot!
100% natural makeup, Ecological and economical, from Moroccan crafts and fair trade: composed of minerals extracted from the mountainous rocks of the Atlas and plants: date stones, olive stones
These traditional powdered kohls will reshape and enhance your look.
A symbol of femininity and seduction, kohl has been the beauty product of North African and Oriental women for centuries. Today, it still retains a privileged place in makeup bags in both the East and the West.
kohl
Powdered kohls authentic and traditional colored glittery gray . Used by Oriental and North African women, it serves to highlight the eye and gives the eyes a deep and captivating expression worthy of desert princesses...
This Moroccan kohl is composed of mineral and plants, Without petrochemical additives: Non-allergenic - without preservative - without artificial coloring - guaranteed without lead or other metal.
Coloring powders are minerals extracted from the mountainous rocks of the Atlas. They are naturally colored and obtained by grinding.
Economical and 100% natural, it lasts up to 3 days and does not require makeup removal.
Composition: Mineral coloring powder, date stone, olive oil.
Carved wooden kohl bottle and its mirwed (applicator)
The kohl tree is an essential accessory for oriental beauty .
It keeps the kohl powder dry, away from any dust or impurities.
Different designs and colors depending on availability.
Moroccan artisanal product and fair trade
This wooden kohl bottle was made in Morocco. It is made from lemon wood and hand carved. Thus, each piece is unique. By offering you these bottles we wish to promote the work of Moroccan artisans and improve their daily lives.
Berber cotton pouch
Stock market in
natural cotton
,
equipped with cord in a very trendy ethnic Berber style. It is ideal for transporting and storing your cosmetic products, makeup, beauty accessories, etc.
Features:
Ethnic cotton purse with multi-colored stripes (color depending on availability) with natural ecru sliding cord.
Material: 100% natural cotton, supple, soft and durable
External dimension: +/- 20 x 14 cm approximately
Usable storage size: +/- 16 x 13 cm
Usage tips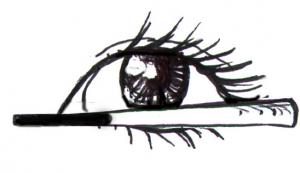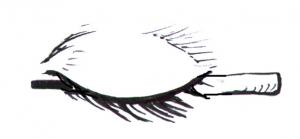 - Fill the wooden kohl bottle with kohl powder.
- Face the mirror then dip the mirwed in the powder. After taking it out, tap the stick against the inside wall of the bottle to remove the excess powder. 
- Place the stick on the corner of your eye. Gently close your eyelids over the mirwed.
-Slowly slide the stick, then draw a line along the entire length of the eyelid. The result is a perfectly highlighted look without smudging and sublimated eyes.
Box capacity:

 
a wooden kohl tree (15 cm x 3 cm)
a refill of Moroccan Black Kohl
a refill of glittery messousse gray kohl
a refill of blue kohl
a makeup bag (18 cm x 14 cm)
Origin of products: Morocco
View full details